Even before the opening and commissioning of the newly built first eye clinic of the Kacheu Medical Foundation in Ambam in March 2021, the construction of the second eye clinic starts, which, like the one in Ambam, is made possible by the financial support of the German association Augenhilfe Afrika.
After the surveying work has been carried out, the construction site is cleared at the beginning of February 2021, and the first construction work gradually begins. A storage shed for storing materials and tools is built, and the connection to the municipal drinking water supply takes place.
The slope of the building site requires some special measures to prevent the ground from slipping and thus endangering the construction work and the building to be constructed. On the slope side, for example, a stable retaining wall is necessary. In order to ensure reliable statics, extensive steel reinforcements are still used both in the foundation and in the entire structure of the building.
The building site is cleared.
The earthworks begin.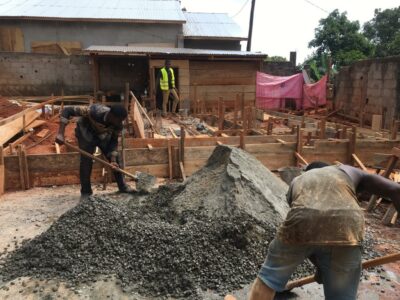 The foundations are being created.
The base plate is poured.
The floor slab is soon poured and the walls for the basement grow taller. Then the first ceiling is poured. After this has dried, the construction workers create the walls of the future ground floor in the next step. It continues step by step, and by the end of 2021 the shell is already largely completed.
The first ceiling is in progress.
Inside the shell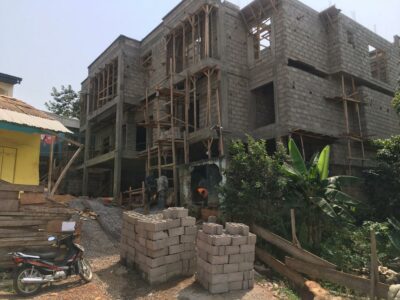 Status of construction work in mid-December 2021
If everything continues to go as planned, the new clinic in Yaoundé can start operations in May 2022.
And this is how the new eye clinic of the Kacheu Medical Foundation in Yaoundé should look like:
View of the new eye clinic of the Kacheu Medical Foundation in Yaoundé